It's funny how being parent changes a perspective and how you view travel. In the past, we'd often book flights and never really consider how else we could reach a destination. While exploration continues to remain at the heart of all our holidays, the journey to a destination is very much a part of that. Our six year old daughter POD has a wonderful sense of adventure and our first trip via cruise ferry certainly surprised us all. For all the right reasons.
We love road trips and we've had some great adventures in France, Belgium and Spain recently as a results. Armed with a Trunki of activities for daughter POD (including a few surprises of course), our holiday very much began as soon as we left home. Sailing with Brittany Ferries was one of the highlights of our road trip in Cantabria, Northern Spain although there were many. It was the first time we'd travelled for more than two hours by ship so while we were all hugely excited, we were a little apprehensive too. Our outbound journey was from Portsmouth to Bilbao, staying two nights on board Cap Finistere, with our return from Santander to Portsmouth an overnight stay on the Pont Aven. We thought we'd do a quick run down of what we loved the most.
We loved that we could board our ship in the evening. There was little waiting around from when we arrived at the port (you only need to be there 45 minutes before) to when we parked the car on deck. No queues to get on board so we were able to grab a bite to eat before settling into our cabin for the night. POD even got a little activity rucksack from Brittany Ferries to keep her occupied and get her used to being on board. Not that it was necessary, she was so thrilled to be on board she settled in straightaway! We opted to take a longer ferry crossing so we left Portsmouth on the Sunday evening and arrived in Bilbao on the Tuesday morning which certainly had it's benefits. Our destination was a rustic cottage with views of the Picos de Europa (about two and a half hours from Bilbao).
We had one large inside 2 berth/4 berth cabin for two nights on the way out. There was more than enough room for the three of us and the room had everything we needed in the way of ensuite facilities and storage. It was air conditioned too with linen, towels and toiletries all provided. The beds were surprisingly comfortable and we did find the gentle rocking of the ship sent us off to the land of nod fairly swiftly. Brittany Ferries offers a range of accommodation types (with and without portholes) with the largest cabins even having a TV, mini bar and balcony! For our return to Plymouth we had two 2 berth cabins for one night with the facilities much the same as our outward journey.
Having taken in the wonderful sea views on our first morning, we had the most superb breakfast. We honestly ate like kings what with a cooked breakfast, warm bread, orange juice and coffee. Great service from the staff too which totally set us up for exploring the ship. While on the Cap Finistere we also had an a la carte meal which was recommended to us and excellent. You need to book but it's well worth it and around £20 a head for a 3 course meal. There are cafes and bars on board too if you fancy a snack or smaller meal. You definitely won't starve that's for sure! Likewise, the larger Pont Aven, has an array of choice on offer from restaurants and cafes to bars.
I'll be honest there is so much to do on board, much more than we thought there would be. Brittany Ferries is totally geared up to families with numerous entertainment options for all ages. There are play areas for the youngsters, games rooms for older kids, a packed entertainment schedule, a swimming pool and a cinema. The shops on board are well stocked with colouring books, puzzles and the like as well. Plus, if you manage to escape, there are even spa treatment facilities!
My highlight on board was dolphin watching and capturing one of these graceful creatures in the air. Five year old POD and her daddy popped to the cinema while I kept a look out. We spent time on deck together too taking in the sunny views, POD using the binoculars Brittany Ferries had given her to keep an eye out.
What we loved about Brittany Ferries and our cruise ferry experience was the ease of everything. Who knew we'd get such a relaxing experience travelling in the middle of the school holidays. We never felt like our space was being invaded and we were able to do exactly what we wanted when we wanted. If we ever have a dog, we can take it with us too as there is a pet travel scheme.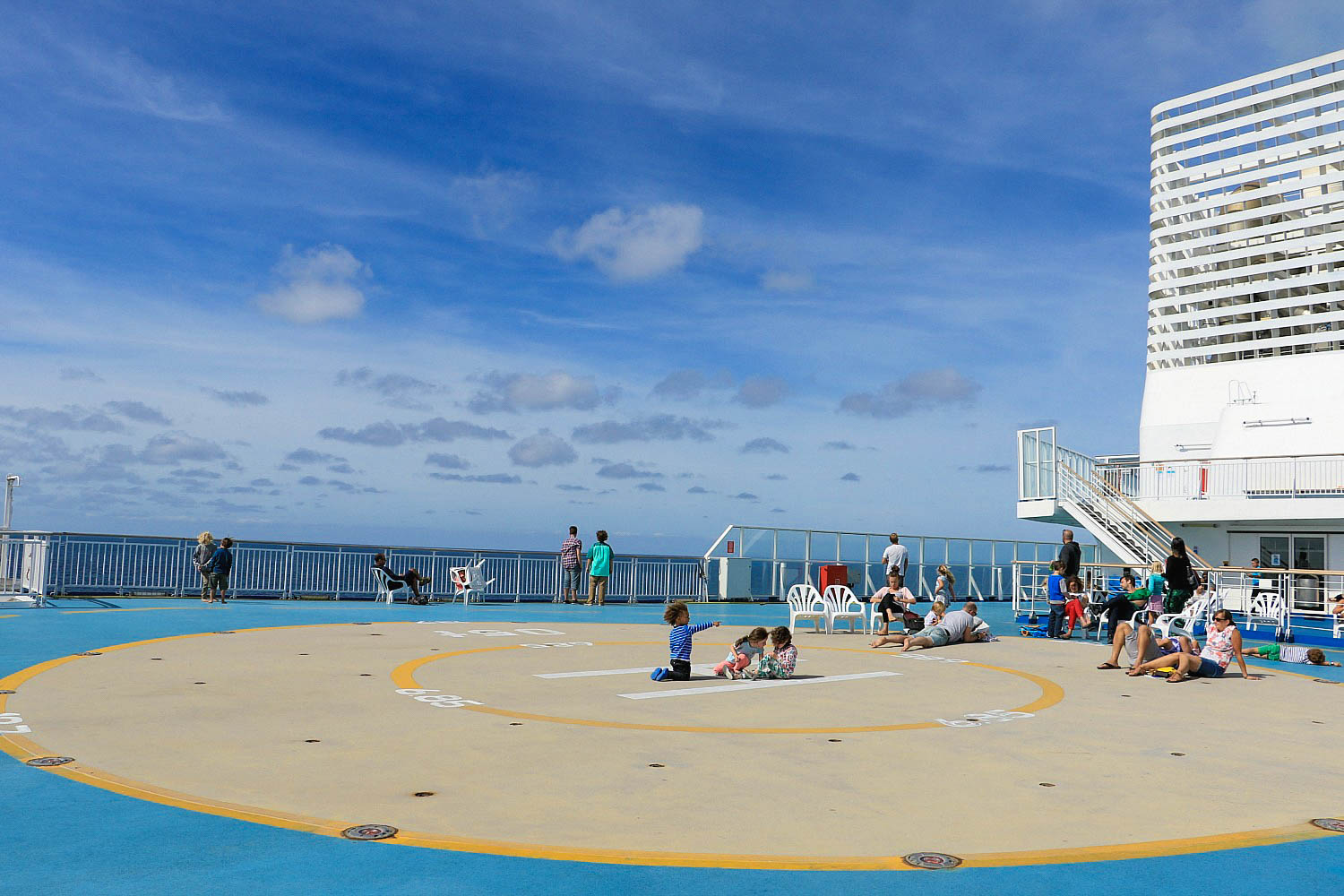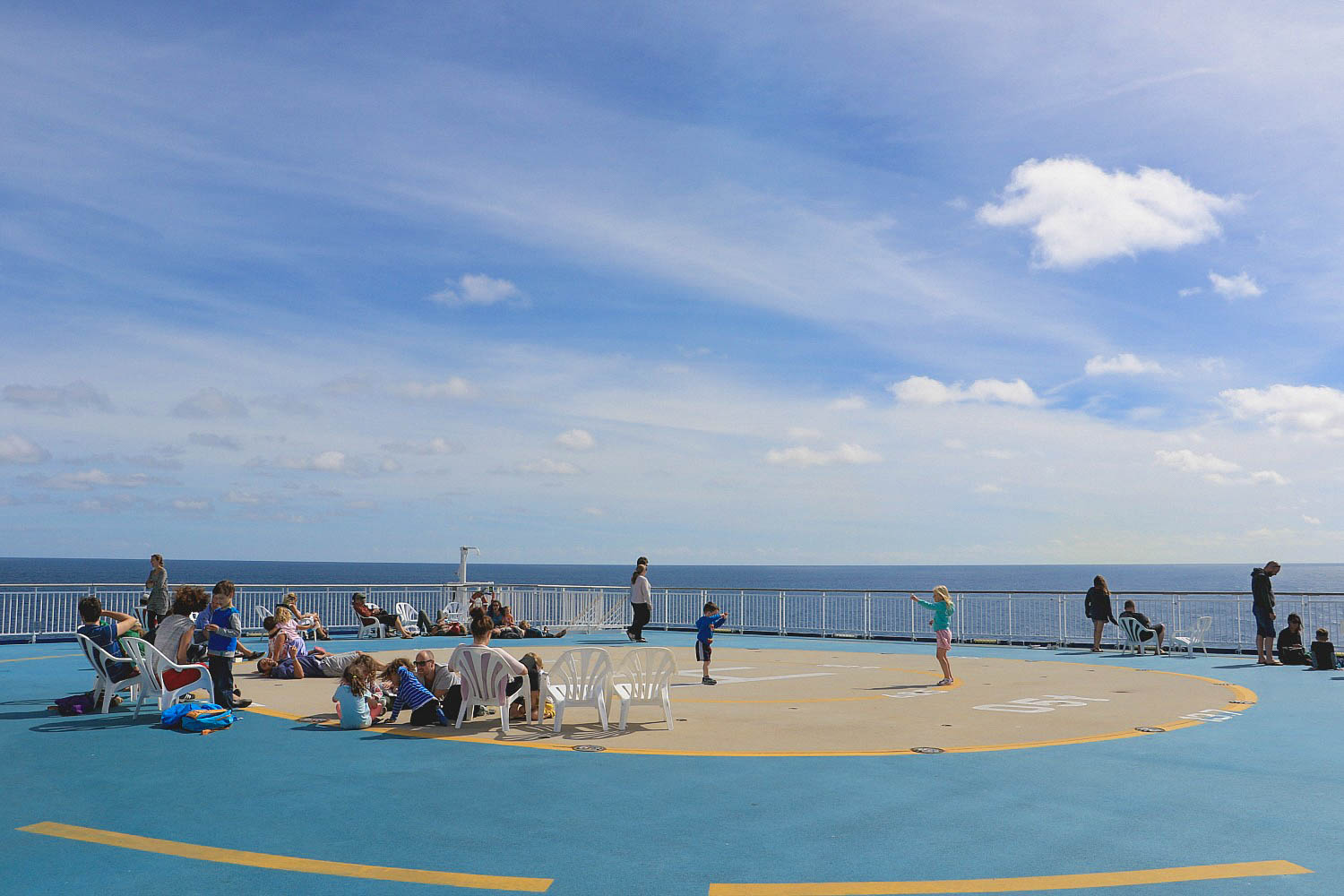 We've tried really hard to find something we didn't like about our journey to and from Northern Spain with Brittany Ferries. The only thing we can come up with is having a cabin with a porthole and that's it. So this year we'll be travelling with Brittany Ferries again, this time in a cabin with a porthole to a different destination. Our holiday will begin the minute we close our front door. If it's anything like last time, when we saw the Picos de Europa, trekked from Dobarganes to Pico Jano and swam in the Potes river, we absolutely cannot wait!