When we won a ferry competition with Discover Ferries, we were more than a bit excited. The home of ferry travel consists of 12 operators spanning 55 routes to destinations across Belgium, the British Isles, France, Ireland, The Netherlands, Scottish Isles and Spain. We had no idea there was so much choice available and with our many childhood ferry trips a distant memory, we set our sights on Northern Spain.
Green Spain, as it's often referred to, is very different to its southern counterpart. Largely unspoilt, the Cantabria region is a beautiful part of the world flanked by the most spectacular mountains. Travelling via cruise ferry with Brittany Ferries meant we'd have the car and the flexibility to explore as little or as much as we liked. Our outbound route was from Portsmouth to Bilbao and consisted of two nights aboard Brittany Ferries' latest addition to their fleet – the Cap Finistère.
On arrival at Portsmouth, it seemed no time at all before we were given the key to our 4 berth inside cabin and shown where to park. We'd packed a single bag for our time on the Cap Finistère which was great as it meant we didn't have to lug our suitcases on board with us. Arriving at bedtime suited us as it meant we could grab a quick bite to eat before getting settled. Brittany Ferries gave all the children a rucksack-like activity pack which pleased POD greatly. The binoculars were a huge hit but she also loved the pinball game and colouring too.
The excitement of being on board meant we went to sleep later than usual but our beds were so comfortable, we were well rested by morning. What a glorious view we woke up to – just look at that sunshine gleaming on the water. Having taken in some fresh air, we grabbed a cooked breakfast which was served with warm bread, fresh coffee and orange juice. Five year old POD went for the continental option so she could practice her spreading!
Our route from Portsmouth to Bilbao included one stop – at Roscoff which is a fishing village on the coast of France. This was just for a crew change so we didn't leave the ship, just used it as an opportunity to take in the surroundings. The main attraction being boats and looking out for lighthouses.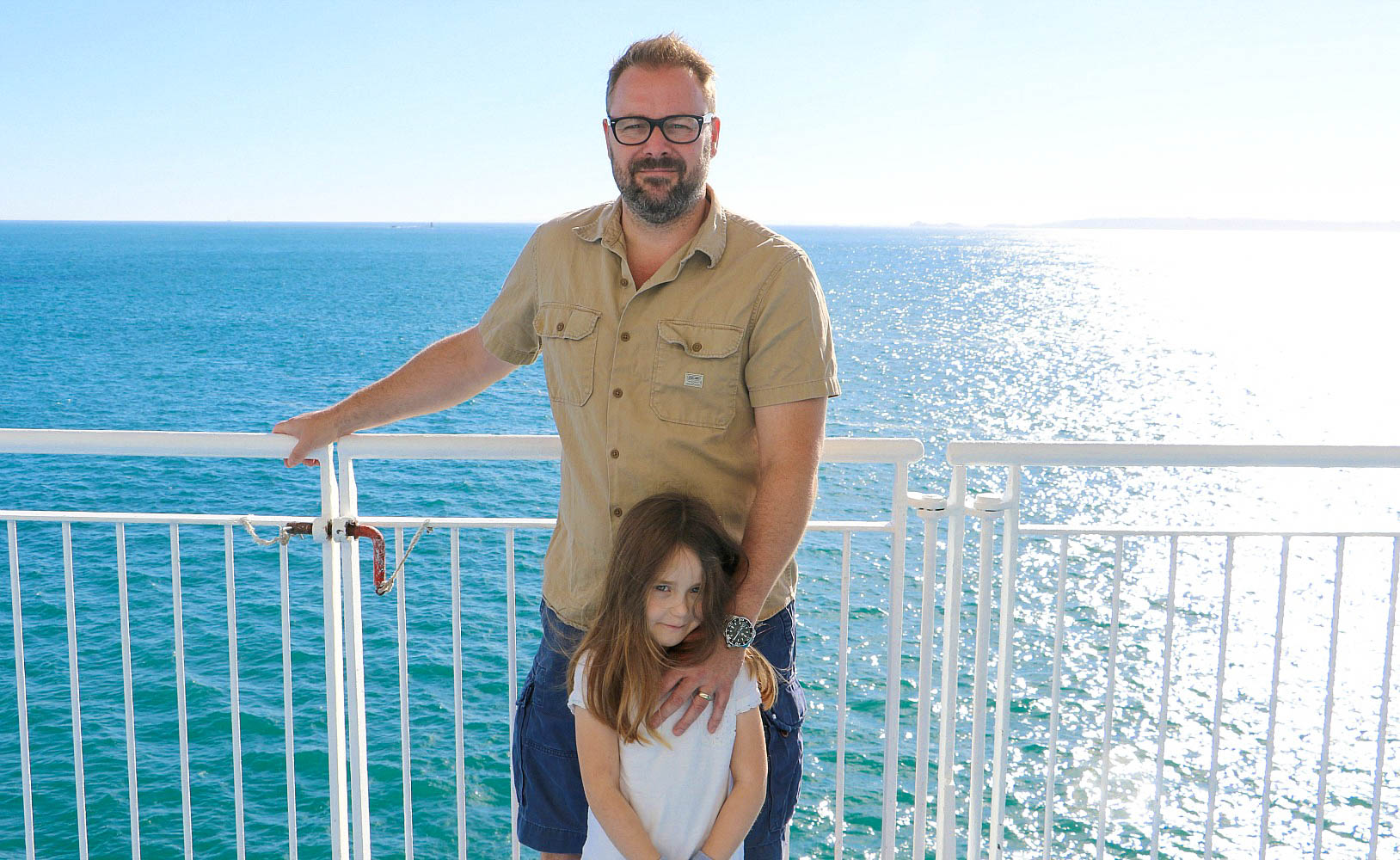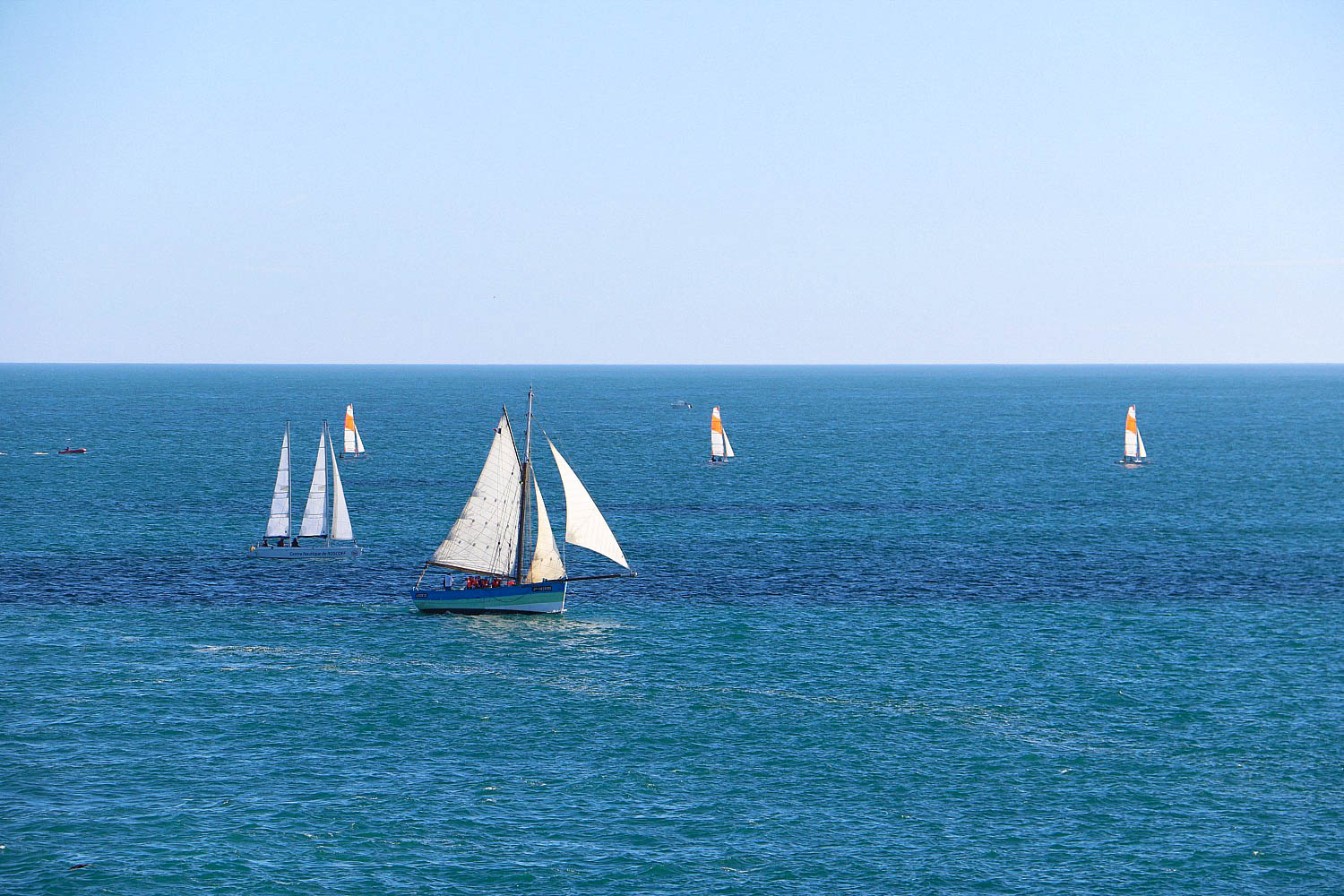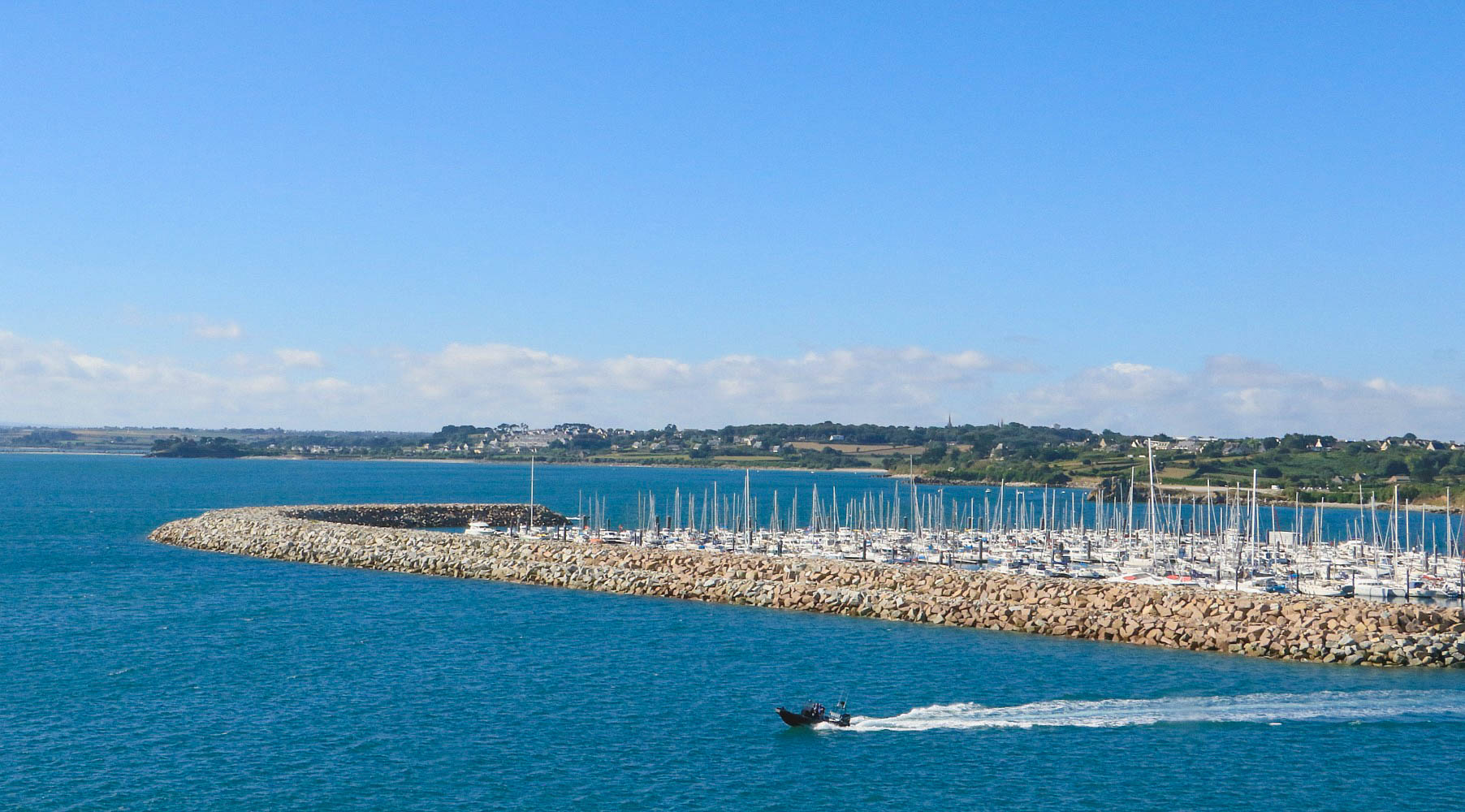 The Cap Finistère was a very different experience to the short ferry trips we'd taken as a family. Although the ship is smaller than Brittany Ferries' largest cruise ship, we found it really spacious. Not only that we never felt like our space was being invaded and we didn't have to queue for anything either. As well as being able to enjoy the facilities on deck, which include a heated swimming pool, there's plenty to do on board. So much in fact we struggled to fit it all in! There were children's activities on offer with ORCA, treasure hunts with mascot Pierre and mini discos. The on board cinema showed a range of films for different age groups with Ice Age: Collision Course, Finding Dory and The Secret Life of Pets suitable for POD.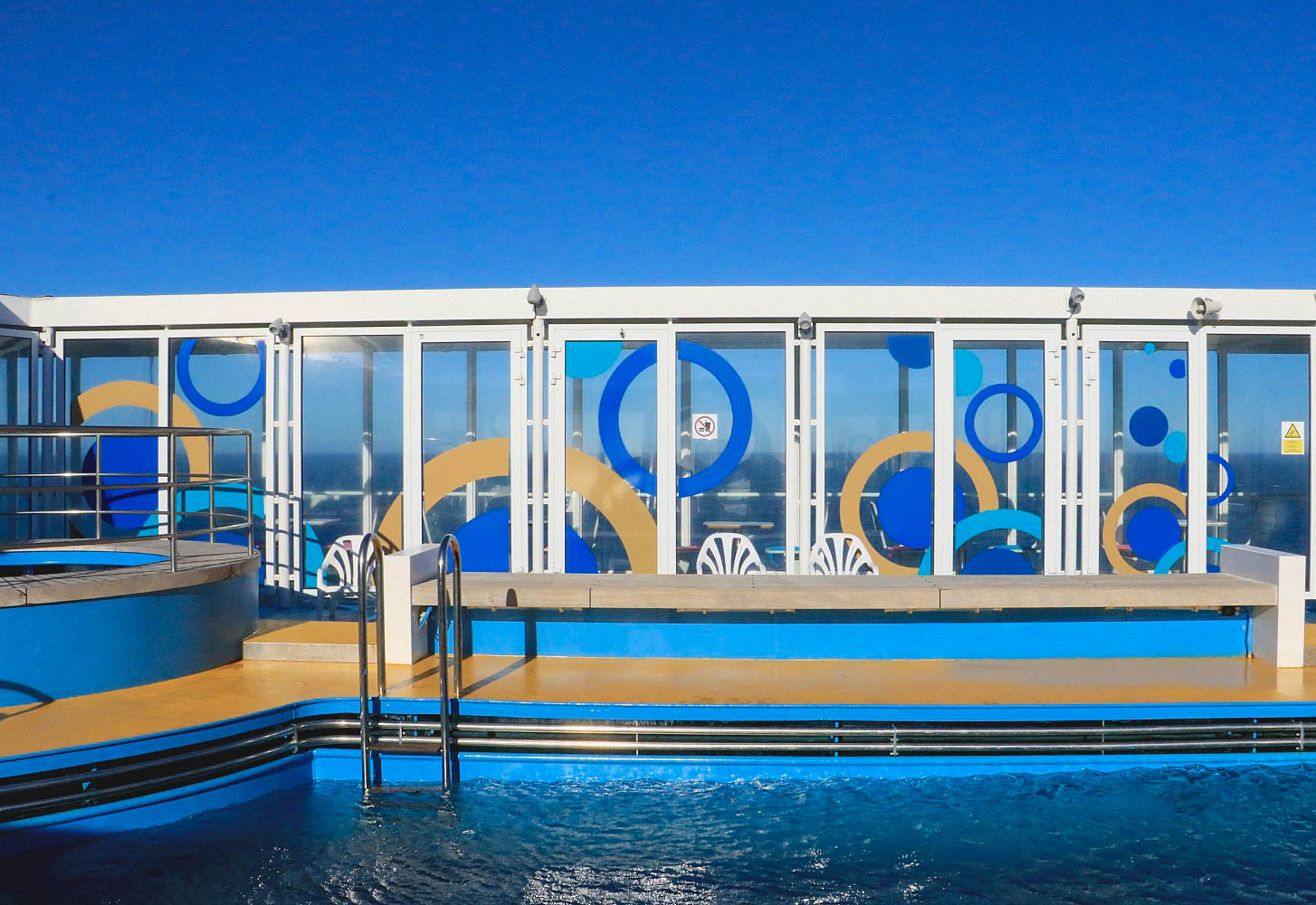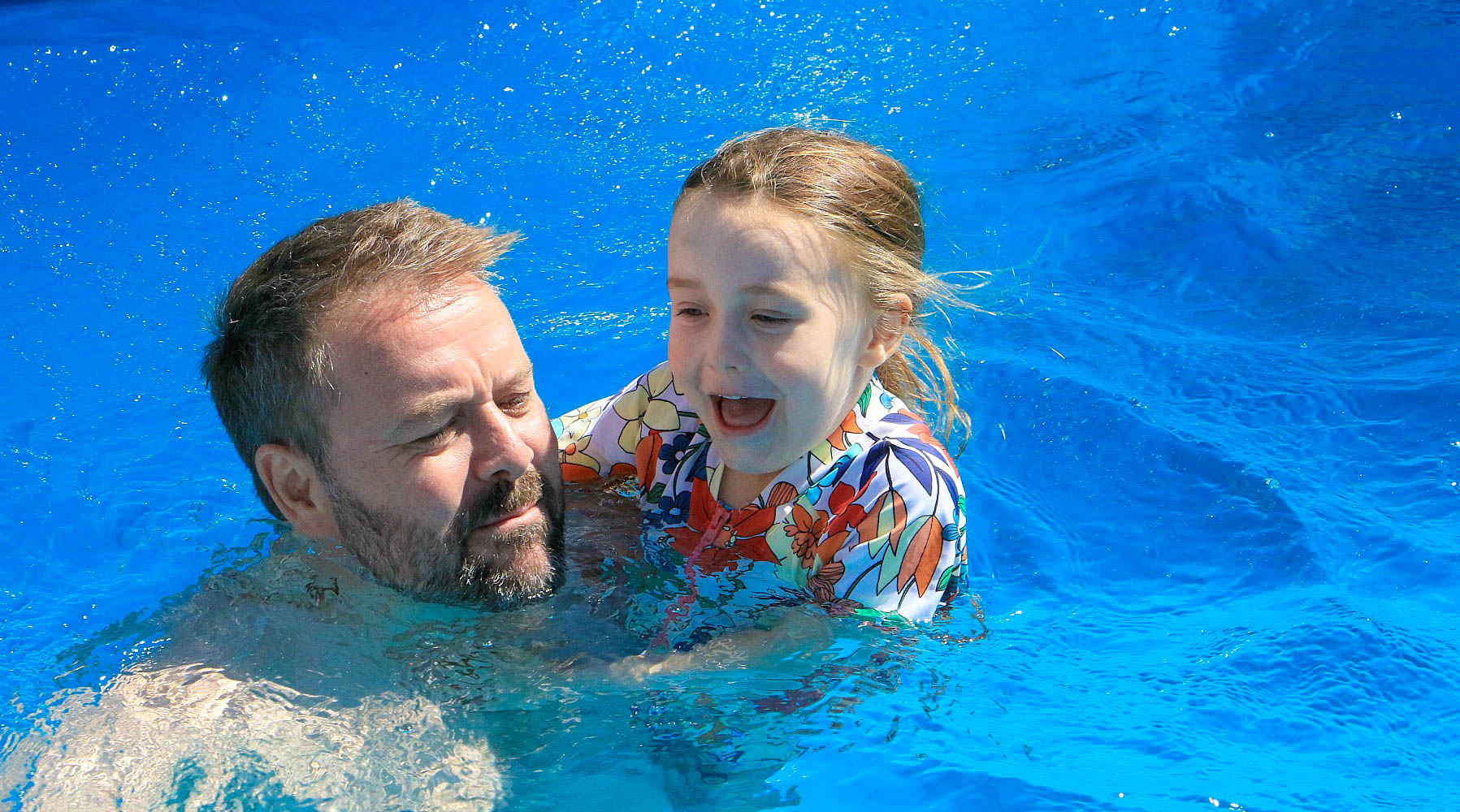 The marine wildlife talk with ORCA and dolphin spotting in the Bay of Biscay was always going to be high on the agenda. Brittany Ferries has supported ORCA (Europe's leading whale and dolphin conservation charity) for over a decade. The charity is dedicated to the long-term protection of whale, dolphin and porpoise species – their findings shared with other conservation organisations and the government.
With the Bay of Biscay one of the top places to see cetaceans and home to a third of the world's species, we found the ORCA presentation given by the wildlife officers fascinating. We learnt about the different types of whale, dolphin and porpoise and where they are typically seen. Dolphins are more likely to be discovered towards the opening of the continental shelf which leads to the deepest part of the Bay of Biscay – home to whales. POD was very excited she was able to use her binoculars for dolphin spotting and I was thrilled I might be able to capture one.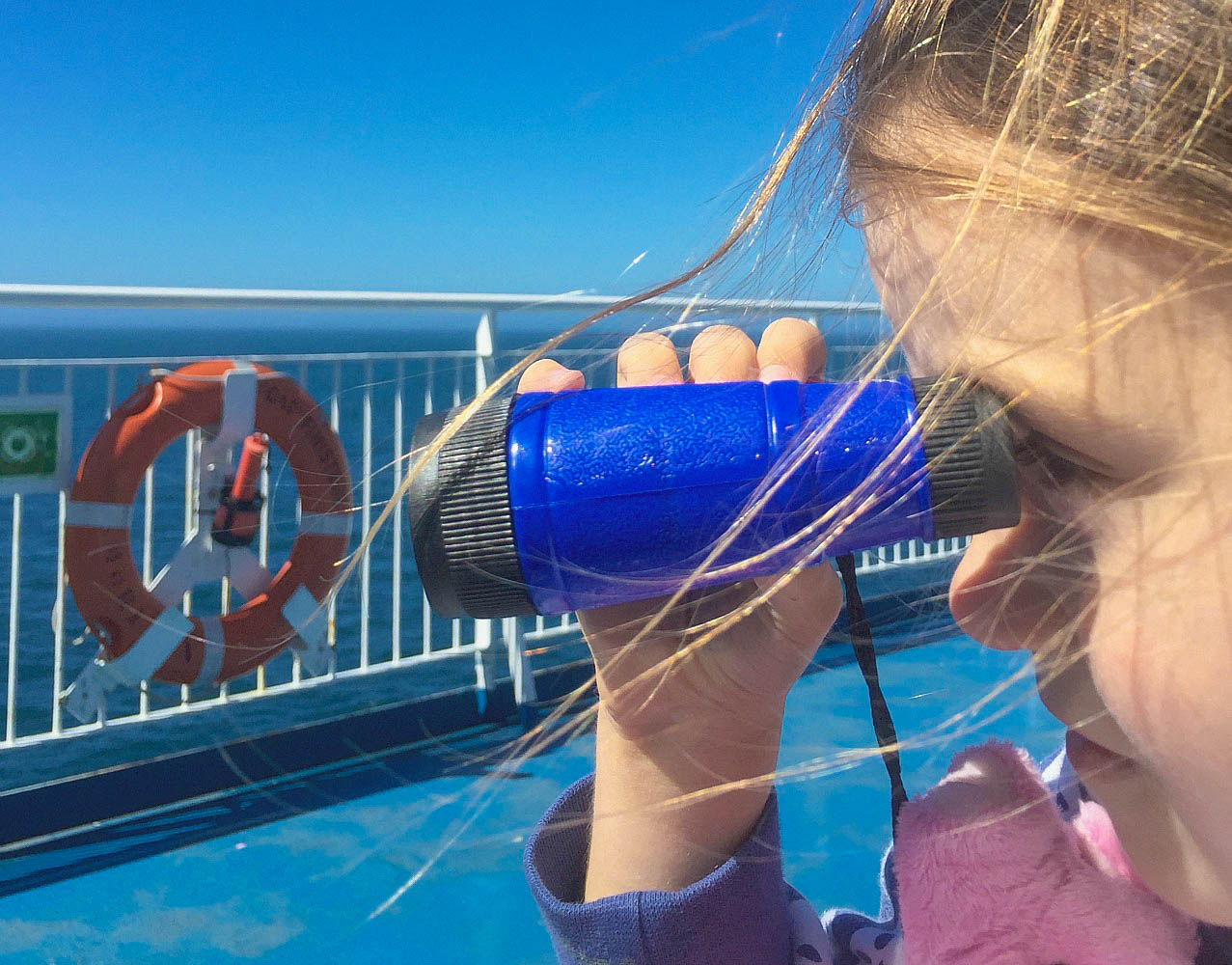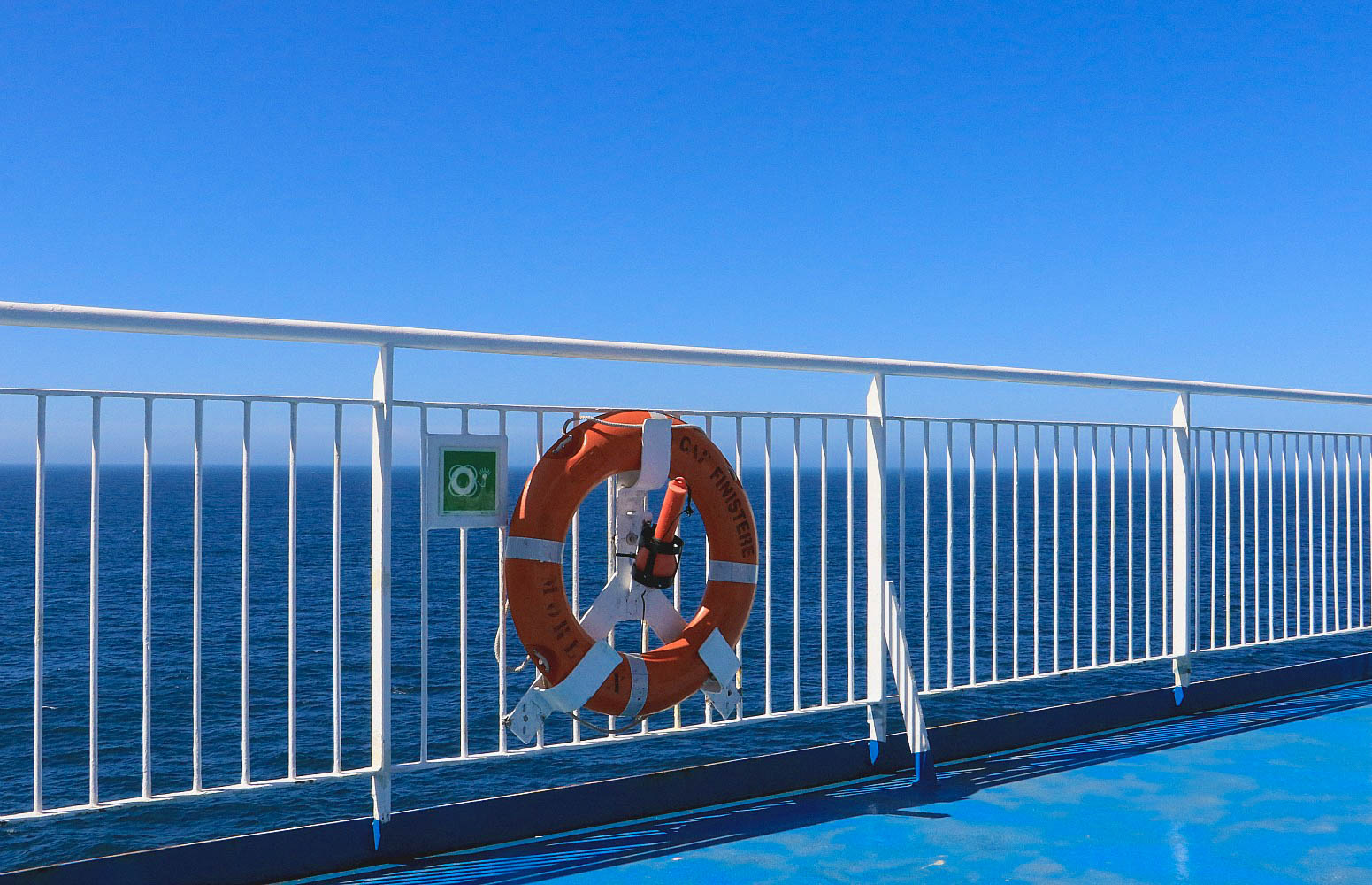 With the weather so good however, it looked likely we might not see any until we were nearer to the continental shelf. So POD and her Daddy headed for the cinema while I stayed to watch the ocean. It was a glorious day so I was more than happy relaxing in a chair with the sun on my cheeks. While watching out for blows, splashes, dark shapes and birds in the water – all signs that dolphins might be nearby.
We didn't have to wait long before one of the wildlife officers shouted "dolphin" and we were all out of seats. We saw many from that point onwards, graceful creatures seemingly so playful as they dived through the water. As it turned out they loved being in front of and beneath the ship, darting around in the waves it created. I didn't realise how fast they were and it took a while to capture one mid air. It meant I got to show the photograph to POD when she returned from the cinema before she spotted one herself in the water.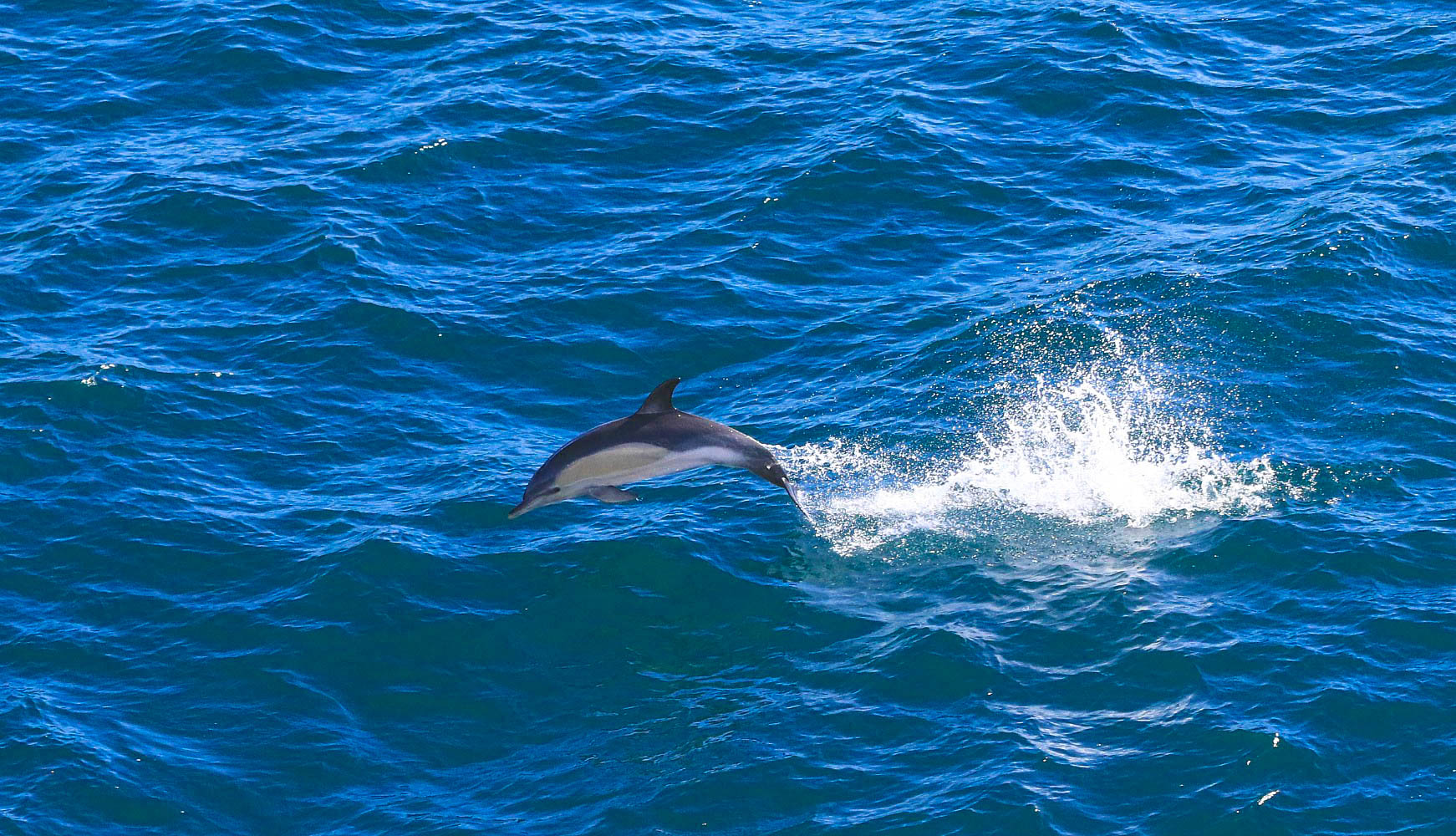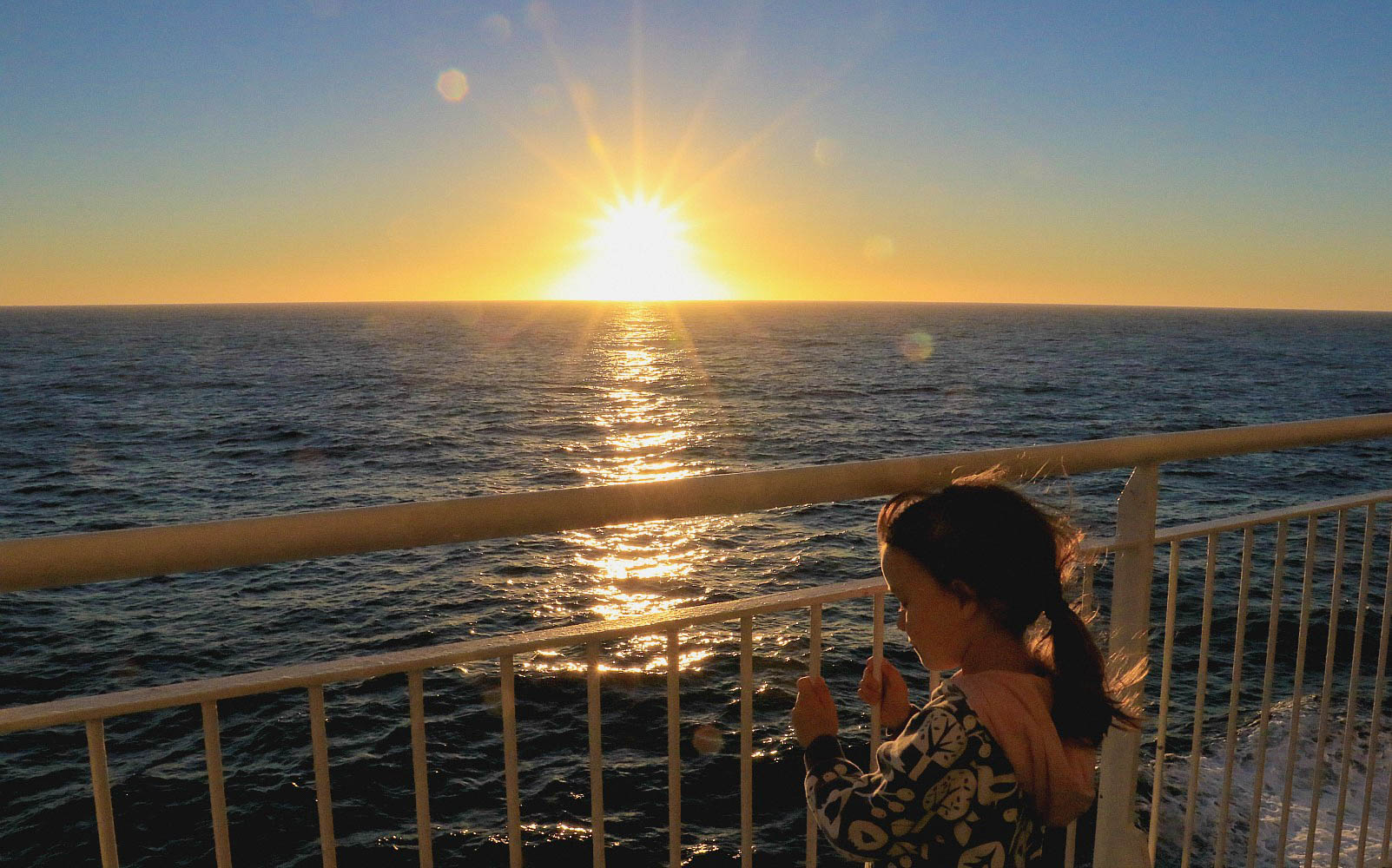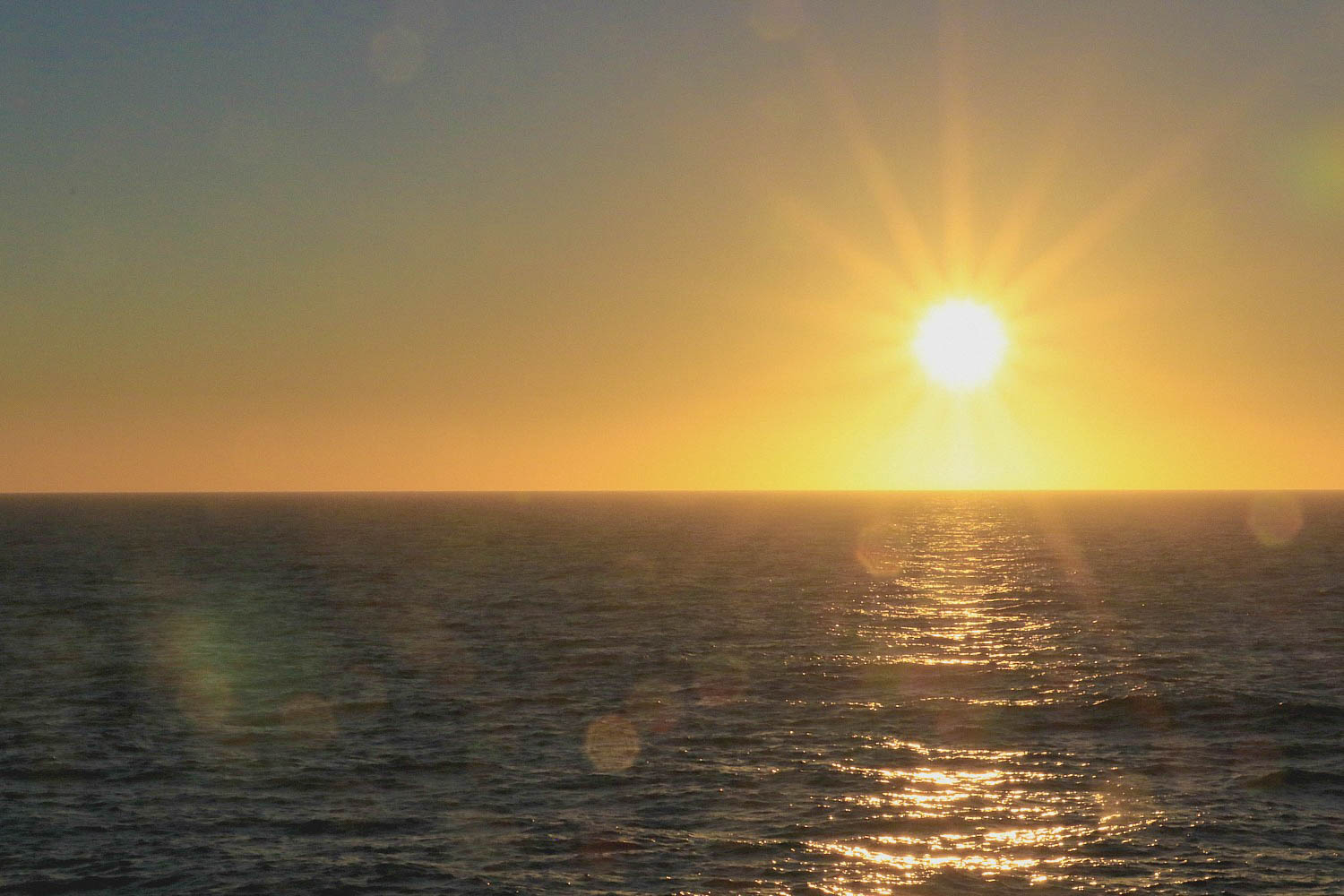 We spent much of the afternoon on deck, watching the dolphins and keeping a lookout for other cetaceans. The sun setting while on board was quite spectacular, five year old POD was quite mesmerised by the sun glimmering on the water. Having had a snack mid-afternoon (there is no shortage of food and drink on board), we booked a table for an a la carte dinner later that evening. The food was absolutely superb – it was the kind of meal that made you say "mmm" out loud as you ate.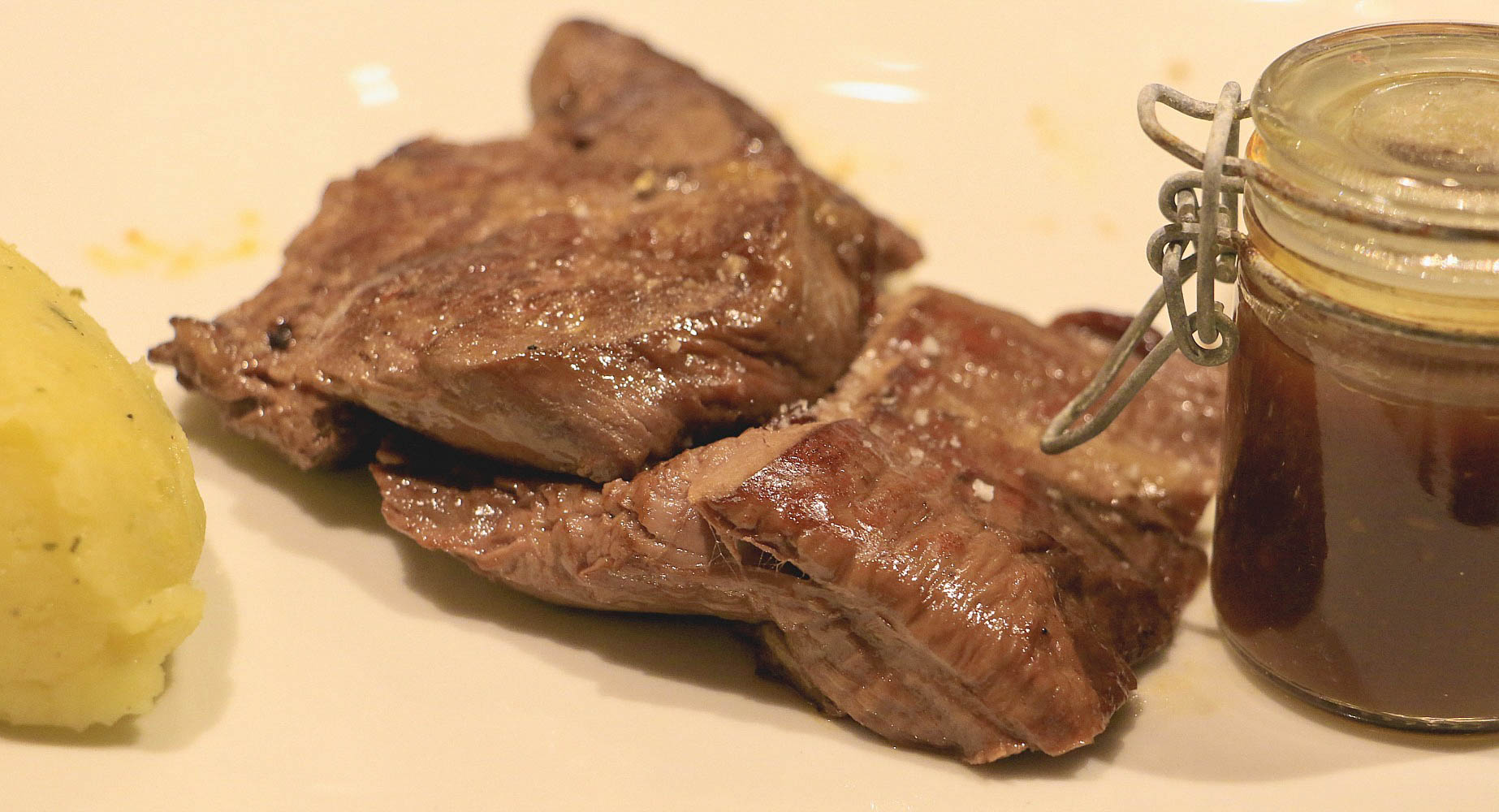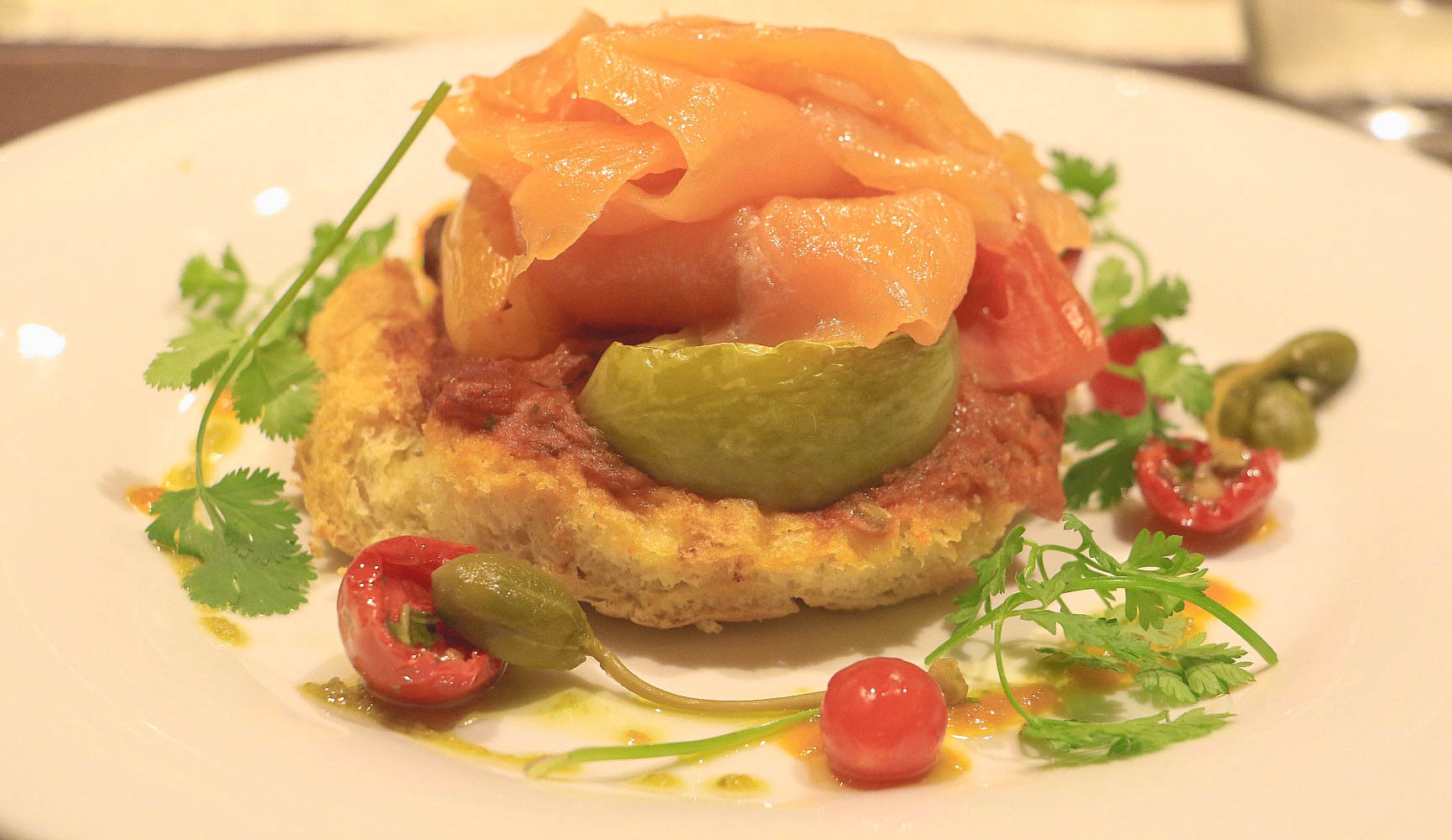 We were having such great time on board, we were disappointed our time with Brittany Ferries flew past so quickly. We could have quite happily spent more time on Cap Finistère. Our second night was a more settled affair and we arrived in Bilbao just as the sun was rising. It was a perfect crossing, I don't think Brittany Ferries could have done any more. Even when we arrived back to the car to find we had a flat battery, one of the team quickly helped give us a jump start. That was a rookie error on our part, forgetting to immobilise our car alarm! We did intend to explore Bilbao before heading to the Liebana region but decided the sensible option would be to head straight there.
We'd found the best accommodation – a 200 year old cottage located in Trillayo village, just ten minutes from Potes. The garden at this idyllic spot had a millstone as its breakfast table with vines laden with grapes everywhere you looked. The smell of peaches was just divine and up the road was a farm with chickens. The views of the Picos de Europa from the cottage balcony were quite spectacular. Somehow we just knew we were going to have the best holiday ever.